NEWS received from
Luca Piciullo (NGI Norway)
—–
Second Workshop on Real-time monitoring strategies as landslide risk management for the IoT-based methods and analyses Working group
September 8 – 16:00 – 17:30 CET time
Agenda
16:00 – 16:15 – Dr. Luca Piciullo – Timeline and planned activities
16:15 – 16:30 – Prof. Emanuele Intrieri – Design of slope-scale LEWSs: from theory to practice
16:30 – 16:45 – Armin Dachauer – Comprehensive soil wetness monitoring for landslide hazard assessment in the Napf region (Emmental, Switzerland)
16:45 – 17:00 – Prof. Claudia Meisina – Hydrological monitoring for LEWS: the case of Oltrepo Pavese (Northern Italy)
17:00 – 17:30 – Discussion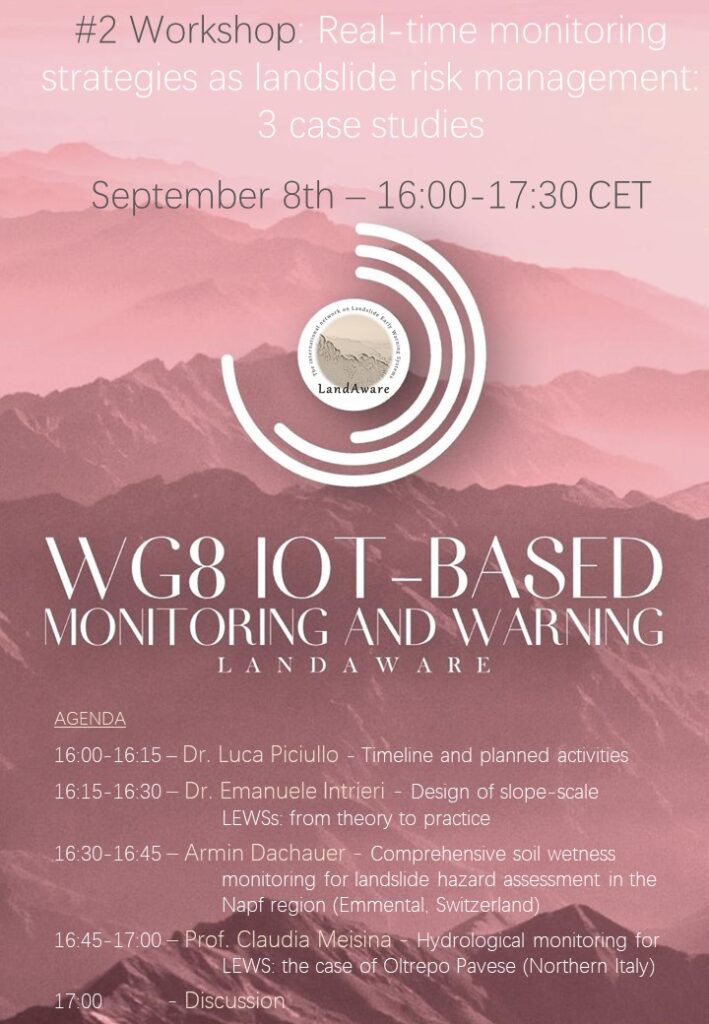 Prof. Emanuele Intrieri is an Assisting Professor at the Earth Sciences Department at the University of Florence. His research is mainly devoted to landslides monitoring and forecasting, with particular reference to slope stability threatening cultural heritage and the characterization of historical and heritage stone buildings affected by detachments. He is author or co-author of more than 50 scientific publications in international journals and of a number of conference proceedings and book chapters. He took part in several national and international research projects and to civil protection emergencies as team member of the Centre of Competence of the Italian Civil Protection Department and of the UNESCO Chair on Prevention and sustainable management of geo-hydrological hazards.
Armin Dachauer received his master degree in Atmospheric and Climate Science at ETH Zurich. He is currently working as research assistant at the Swiss Federal Research Institute WSL (Birmensdorf, Switzerland), where he is responsible for soil wetness stations in Central Switzerland.
Prof. Claudia Meisina received her PhD in Earth Sciences from the University of Pavia (Italy). Currently is associate professor in Engineering Geology at the Department of Earth and Environmental Sciences of University of Pavia, where she leads the Laboratory of Engineering Geology and she is member of the PhD School of Earth and Environmental Sciences. She has been a post-doc at the BRGM in France. She received fellowships through Italian Foreign Affairs Ministry and Centre International pour la Formation et les Echange Géologiques. She is actually involved in Liquefact Horizon 2020 Project and in several projects about the role of land use in shallow landslide triggering.
__________________________