NEWS received from
Stefan Steger and Mateo Moreno Zapata (EURAC, Italy)
SAVE THE DATE for the online PROSLIDE event!
During the webinar, the results of the PROSLIDE project (Exploring new opportunities for the PRediction Of shallow landSLIDEs) are presented. PROSLIDE focuses on shallow landslide prediction using novel data-driven and physically-based approaches in the province of South Tyrol, Italy. The webinar consists of presentations (see agenda in the flyer) giving an overview of the methodical approaches and results, along with time for questions and discussion.
– When: Thursday, 29th of June 2023
10:00 AM Central European Summer Time (CEST)

– Where: Click here to join the meeting
For more information on the project, visit the PROSLIDE blog
No registration is needed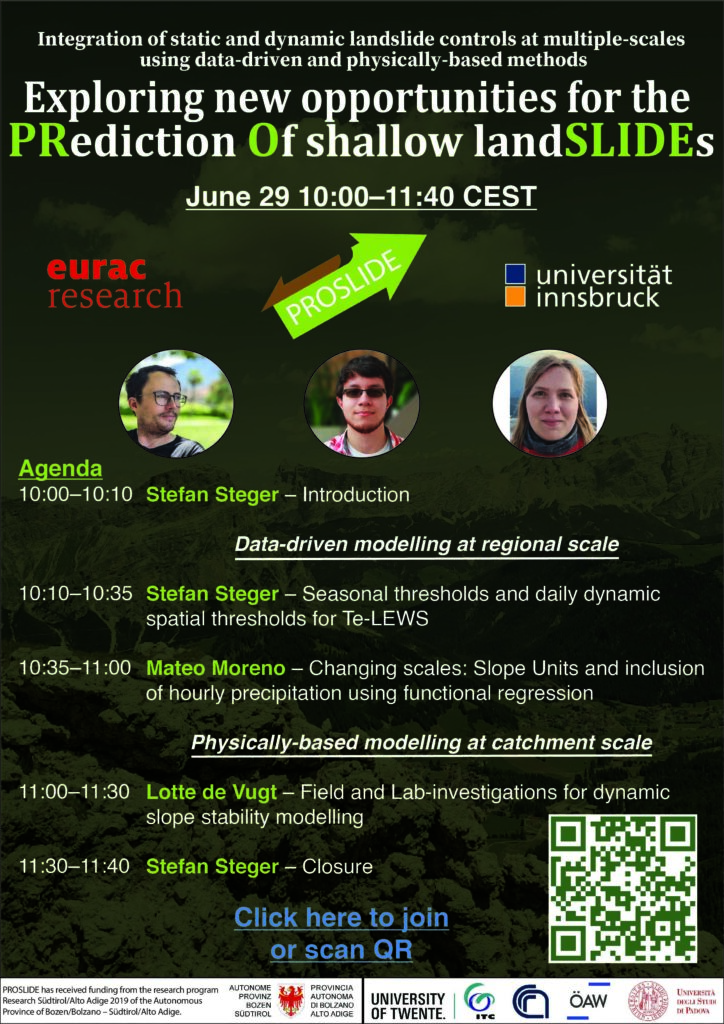 PROSLIDE is financed by the Autonomous Province of Bolzano and led by Eurac Research and the University of Innsbruck, which are supported by the Autonomous Province of Bolzano, the University of Twente, CNR, IGF-ÖAW, and the University of Padova.